Slips, Trips & Falls at a Glance
If you have slipped, tripped or fallen on public or private property you may be able to make a personal injury claim for your injuries.
Slips, trip and fall claims are some of the most common types of personal injury claims because they can happen to anyone, anywhere.
Despite being so common, slipping, tripping, or falling can cause significant injuries.
Pryers help people claim compensation on a no win no fee basis.
Contact us to see if we can help you.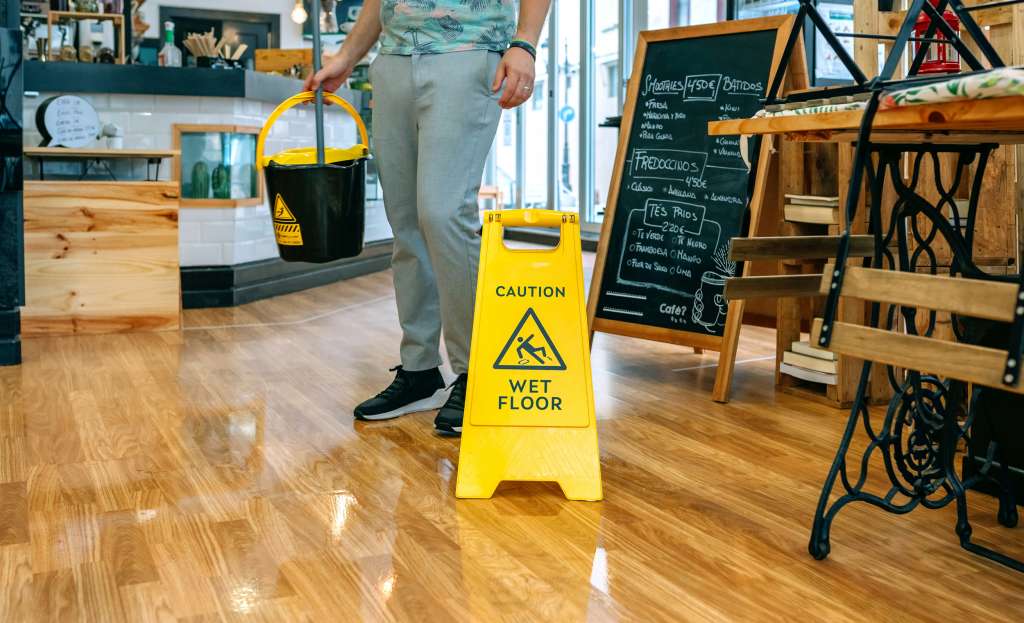 Slips, Trips and Falls Compensation Claims
Slips, trips and falls are some of the most common types of accident. This therefore means that they are the most common reasons for people to make a personal injury claim.
They're so common, because they can happen anywhere; to anyone. Where you slip, trip or fall will determine how you need to go about making a claim. For instance, if you slip, trip or fall at work, you might want to read about making an accident at work claim.
But you don't need to worry about the legal ins and outs – we can take care of that for you, while you take care of yourself, and focus on getting better.
If this is the first time you're having to think about making a claim, we understand it can be a daunting prospect. But there's no need for it to be. We've answered a few of the questions we get asked most often, below, to try and put your mind at ease. But our friendly team of experts are only a phone call away.
When you're ready to start your claim, just call us on 01904 409720. We will asses your claim for free, and advise you if we can help you claim compensation on a no win no fee basis. Alternatively, you can contact us by email and we'll call you back.
In short, yes you can. But to be awarded compensation, you will need to prove that the slip, trip or fall was caused by someone else's negligence.
To prove negligence you need to show that another person, or organisation's actions didn't meet those of a reasonable person (or organisation) in their position.
It shouldn't be any harder to get compensation after a slip, trip or fall, than in any other personal injury claim, if there has been negligence.
What can seem to make them more difficult is that the law is not designed to stop all accidents. It recognises that it would be impossible for all areas to be kept in a perfect condition at all times. So this means that, unlike road traffic accidents, where the vast majority of the time, someone can be blamed, a lot of tripping accidents happen without someone being at fault. There are two main areas where the law allows this leeway.
Regularity of Inspections
It would be impossible for a landowner to constantly survey all of their land. Inspections therefore only need doing at reasonable intervals. What is reasonable will vary, depending on the size of the land and resources of the owner.
For instance, a council does not have to check a residential cul-de-sac every day; it would be impossible. Whereas a supermarket would need to check the aisles of their store, multiple times a day.
As long as a good system of inspection was in place, there's not much that can be done about hazards which the person or organisation responsible was not aware of. Such as, things that happen between regular inspections.
Risk Caused by the Hazard
The law also considers the risk the hazard represents. Paths and roads do not have to be kept perfectly smooth; but obvious hazards do need to be repaired. The use of the area also plays a role in deciding what is safe, and what is not.
The rule of thumb for potholes, and other trip hazards, is:
A difference in height of less than an inch, on a footpath, is fine; and
Less than two inches in a road.
The fact that the law allows for less than perfection means there are often valid defences to these claims. Council's are also understandably careful about protecting tax payers' money, so will demand strong evidence before they agree to pay compensation.
If you'd like to know more about the law in tripping claims against the Council, you can read our guide. It includes information about what evidence will help you win your claim.

If you are uncertain about whether the cause of your accident would be considered a hazard, in the eyes of law, you can contact our team. Our experts have handled hundreds of slipping, tripping and falling claims, so are familiar with the law. You'll just need to provide us with some photos of what caused your accident. We've written a guide about how to take good photographs of a pothole, to help you do this.
You can call us on 0330 134 5861, but it is likely we will need to see what caused your accident. You can help us assess your claim quicker by sharing photographs of what caused your accident. If you have any maps or diagrams, you are welcome to send these too. We will advise you for free if we can help you claim compensation on a no win no fee basis.
You can claim compensation for a wide range of accidents that involve a slip, trip or fall. Some of the ones we see most are:-
Slipping on a wet floor, in a store
Slipping on a substance that has been spilled
Tripping on a paving slab, on a footpath
Tripping in a pothole, in the road
Falling over something that should not have been obstructing a path
We see a lot of claims against local councils, for tripping accidents. This isn't surprising when you consider how much land they are responsible for taking care of.
We also see a lot of claims against shops – supermarkets are probably the most common. Again, this is likely to be because of the vast number of people who use them.
Employers (of all kinds) are another group that are often responsible for causing slips, trips and falls. Employees are protected even further than members of the general public by the health and safety laws. These higher standards mean that it is a lot easier to prove where negligence has taken place for accident at work claims.
As with any personal injury claim, the amount of compensation you are awarded is based on your injuries and losses. In English law, the purpose of compensation is to put you back where you would have been, if the accident had not have happened – as best as possible.
A large part of our role as injury lawyers involves getting medical evidence which shows the impact a defendant's negligence has had on you.
We also help our clients to gather evidence that supports any financial losses that they have incurred because of their accident, where we can.
Cyclists can claim compensation for falls which were not their fault, just like a pedestrian can.
Areas designed for cyclists must be safe for them to use; this includes roads, cycle paths and private cycling facilities. Similar laws protect cyclists, to those which protect pedestrians.
Cyclists can also claim compensation for equipment damaged in an accident caused by someone else's negligence.
If you've Slipped, Tripped or Fallen, Choose a Solicitor you can Trust
Our expert team of personal injury lawyers are here to help you. If you've been injured because of a slip, trip or fall, which was caused by somebody else's negligence, we can help you claim compensation.
In addition to our extensive experience helping injured people, we have been independently assessed by the Law Society and obtained their Lexcel Quality Mark. This shows that we demonstrated the Law Society's standards for excellence.
Don't underestimate the complexity of slipping, tripping and falling claims. Despite them being so common, there are various laws which might apply. Pryers are specialist injury lawyers and can help you on a no win no fee basis. Call us on 01904 409720, or email us to get started.