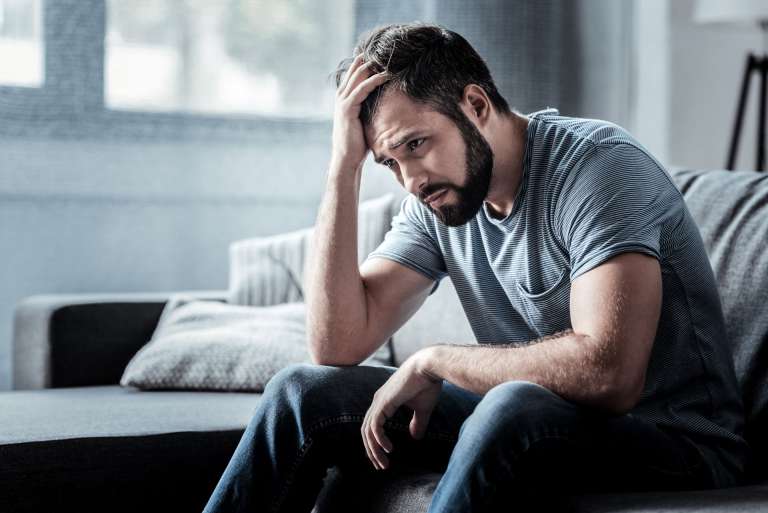 Neil approached Pryers after having a fall at work. He had fallen through a hole in an attic floor whlst working as a labourer and was looking for a solicitor to help him claim compensation.
Injured in a fall at work
Neil suffered from a range of post traumatic symptoms after serving time in the army, and working had always helped to bring some normalcy to his life. So when he received a message during a period of unemployment, from a roofer, looking for a labourer, he was quick to accept the job.
But on his first day on the job, Neil had an accident which saw him fall 18 feet to the ground, through a hole in an attic floor, which had just been covered by a thin piece of plywood.
How the fall at work affected Neil's life
Physical injuries
Neil sustained a fracture to the lower-middle part of his spine (a thoracic vertebral fracture). This caused unbearable pain, and significantly restricted his movement.
Although Neil eventually regained some mobility, he continued to have difficulty with lifting and rigorous movement. He found this frustrating, and it meant that he couldn't work given the physically demanding nature of his job.
Psychological injuries
Neil's time in the army meant he was already dealing with intrusive thoughts and nightmares; the accident intensified these negative thoughts. He was plagued particularly by the thought that he could have died, meaning that his family would have been left without him.
Before the accident, working had eased Neil's depressive feelings and improved his quality of life. But after it, Neil was out of work for 18 months. He said; "I felt very low, I had nothing to take my mind off my pain or the accident. I was desperate to get on with my life again, but I couldn't go back to labouring as my back was in agony whenever I tried any heavy duty lifting."
Neil eventually found a job in the construction trade working for a family friend. Although he still suffered with back pain, he was confident in taking the job because he knew his employer. They worked together to understand his condition and develop activities that he was capable of.
The job didn't just give Neil work, it gave him purpose; and with that, Neil developed a more positive outlook on life, and so his mental health also improved.
How we helped Neil after his fall at work
Neil contacted Pryers soon after his accident: he was desperate, unable to work and suffering extreme pain.
Charlotte Waller, a personal injury solicitor at Pryers, represented Neil. Charlotte has helped many people in Neil's situation before, so knew exactly how to reassure and help him.
Identifying who was to blame
One of the first stages in any claim is to identify who is to blame and write to them. Most of the time, in an accident at work claim, the injured person's employer will be responsible for their safety, and therefore compensating them as a result of any failings in this respect.
But as Charlotte explains it was not entirely straightforward in Neil's case: "Neil started work as a casual labourer without a contract. This, along with the fact that he was so new to the position, meant we had difficulty proving who his employer was. No-one was willing to take responsibility for his safety whilst working on site."
Although the message that offered Neil the job said the property development company would pay his wages, they strongly denied any responsibility; they claimed that they had not invited Neil to work onsite and had no knowledge of him, so were not his employer.
The roofer that had sent the message role also denied responsibility.
We got the result that Neil was hoping for
Eventually, despite them never admitting responsibility, Charlotte managed to negotiate an agreement with the property developer to settle Neil's claim.
Charlotte then gathered evidence about the extent of Neil's injuries; including evidence from an orthopaedic expert that said he would experience residual symptoms and functional disability for the rest of his life. They also believed that his symptoms would be exacerbated by manual jobs that required lifting, and even driving.
Psychological evidence said that the trauma of the accident had affected his mental health by triggering the post traumatic symptoms from the army to resurface.
Neil held little documentation of previous recent employment, which made assessing his claim for loss of earnings hard. Nevertheless, Charlotte negotiated a settlement of £32,500 to compensate Neil for his injuries and financial losses.
Neil was delighted with the settlement. He said; "It took a while, but Charlotte was great. She was always available to answer any questions I had. When I first started the claim and they started denying I was even employed by them, I had little hope. But Charlotte kept persisting and got a great result."
How we can help you
If you have been injured in an accident at work, Pryers might be able to help you claim compensation, so you can start getting your life back on track. Contact us by email of call us on 01904 409720 for a free, no obligation consultation. Our team will advise you if we can help you to claim compensation on a no win no fee basis.