Personal Injury at a Glance
Personal Injury claims usually start after a person, or organisation's, negligence injures somebody.
There are many different types of personal injury claims. Some of the most common are road traffic accidents, slipping or tripping and accidents at work.
You can claim compensation in personal injury claims for injuries and financial losses.
We help most of our clients claim compensation on a no win no fee agreement.
Contact us if you have been injured because of someone else and want to claim compensation.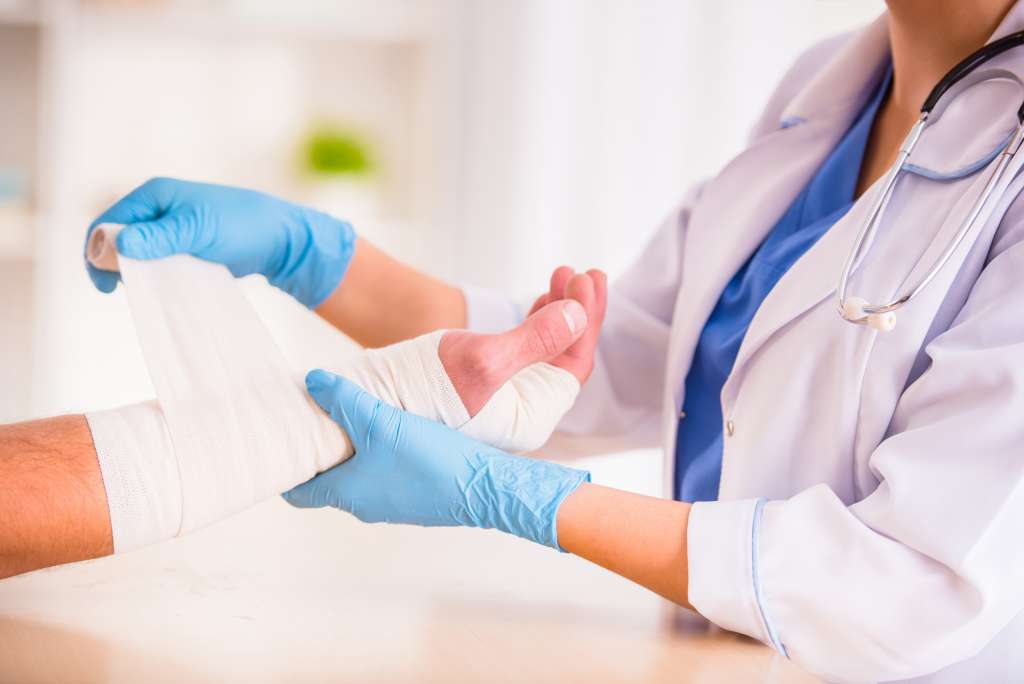 Personal Injury Claims Solicitors
Anybody can be injured in an accident; at any time. It does not matter how careful you are; you just need to be in the wrong place at the wrong time. There's nothing worse than being careful and considerate, only to be injured because someone else wasn't paying attention, or was acting recklessly. Damaged property, an inability to work and other inconveniences add insult to injury.
It's easy to see why people who have been on the wrong side of an accident want things put right. And although money won't fix everything, it's the way the law tries to put things right.
If you've been injured in an accident that wasn't your fault, Pryers' team of personal injury lawyers are here to help. We will work with you on a no win no fee basis, to get you the compensation that you deserve.
It's hard to know where to turn when you've been in an accident. Many people have never found themselves in that situation before. That's why we have answered some of the most commonly asked questions, below. If you're still not sure what to do, our team are friendly, knowledgeable and most importantly, here to help. You can contact us by email, or call us on 01904 556600.
We will assess your claim for free and advise you if we can help you claim compensation on a no win no fee basis.
Personal injury is a term used to describe an injury caused by someone else's negligence. Often these come from accidents, but they can be caused intentionally, or recklessly.
In England and Wales, if you have been injured as a result of someone else's negligence, you can claim compensation.
This is the law's way of recognising the impact that accidents can have on peoples' lives. Although money will not solve everything, it does address some of the financial problems caused when someone injures another person.
Pryers Solicitors are specialist injury lawyers. We have helped thousands of people get compensation for injuries they have suffered, in personal injury claims.
Call us on 01904 556600, or email us to see if we can help you. We help our clients claim compensation on a no win no fee basis.
The first stage in a personal injury claim is to contact the person who caused the injuries (the defendant) and set out why you think they are to blame.
You also need to gather evidence of your losses. Medical evidence from an independent expert will help prove the severity of your injuries, and that they were caused by the defendant's negligence. For your financial losses, you might need to gather receipts, bank statements, payslips and witness evidence.
If the defendant accepts responsibility for causing your injuries and losses, settlement negotiations can begin.

However, if they deny any negligence, it might be necessary to issue court proceedings, to ask a judge to decide. Likewise, if a settlement cannot be negotiated. Although this does not mean you will have to go to trial, it is a possibility. But usually the process of exchanging evidence set out by the court will be enough to reach a settlement without a trial.
Pryers has settled claims at all stages and always aim to get clients the best settlement in the shortest time.
If you'd like to know more about what happens when you make a claim, you can read our guide to making a personal injury claim.
To successfully claim compensation in a personal injury claim you need to prove that the defendant's negligence caused your injuries and losses.
Negligence, in English law, can be defined as an action, or lack of action, which does not reach the standard that would be expected of a reasonable person.
In some types of claims, like accidents at work, there are laws which people and companies must abide by. Failing to do so can be a sign that they were negligent. In addition to legislation, the court will consider decisions from other similar cases. This is called 'case law'.
Pryers' team has years of experience, specialising in personal injury claims. This allows them to be familiar with the relevant laws and how the court make decisions based on them.
A personal injury solicitor's main job is to help people who have been injured, claim compensation.
But for our personal injury lawyers, it's all about helping injured people to get their life back on track. Sometimes serious accidents can have catastrophic consequences which means more is needed. In these cases, we have helped people to arrange medical treatment, rehabilitation and even make alterations to their home.
Because our team specialise in helping people who have been injured in accidents that weren't their fault, we've almost seen it all before. So, we're well positioned to help you!
Pryers can even help people who have been injured in serious injury claims to manage their affairs, with our Court of Protection Deputies. This means that you don't need to rely on another firm of solicitors, after building a relationship with us.
Contact us to start your claim today.
You can claim compensation for pain, suffering and any inconvenience that you have experienced as a result of an accident; you can also claim for any expenses you have incurred because of it.
The amount of compensation you can get depends on your specific injuries and losses. The smallest amount you can claim in a no win no fee claim is £1,000; the highest awards, for people who have been seriously injured, go into the multi-millions of pounds.
Cases that have been previously decided by the court, along with published guidelines help to ensure consistency in injury awards.
One of the main benefits of instructing a firm of specialist personal injury solicitors, like Pryers, is that we have settled hundreds of personal injury claims. This means we always have a good idea of what awards are justified, when it comes to negotiating your settlement.
Another good reason to instruct a specialist solicitor is to ensure that you claim for all of the compensation you are entitled to. Although it's well known that you can claim compensation for things like loss of earnings, other things, like care and assistance from family and friends, are less well known. Pryers make sure our clients claim for all of the compensation they are entitled to.
It's best to seek advice about making a claim as soon as possible after the accident that you want to make a claim for.
It doesn't matter if your injuries are ongoing. Sometimes injuries can last years, or even a lifetime, so we're used to helping people who are still having problems.
You won't lose anything by contacting us to soon, but if you wait too long, you could lose your right to claim compensation (more on this below).
It is commonly said that you have three years from the date you were injured to make a claim. Although this is accurate, for most claims, the three year period is the date when court proceedings must be started by. There are steps that ideally need to be taken before this, to get your claim ready for court. So, speaking to a solicitor sooner, rather than later, will give you the best chance of success.
The two most common exceptions to the three year time limit are:
If you were under the age of 18 when you became aware of your injuries. In this case the three year time limit will run from your 18th birthday.
If you lack mental capacity to instruct a solicitor. If you lack capacity, the three year time period will run from the date you regain capacity.
There are some other more unusual exceptions though. If you've had an accident at sea, or on an aeroplane, the time limit might be two years – not three.
Another, more common, exception to this general rule is criminal injury compensation claims. You generally only have two years to claim for compensation via the Criminal injuries Compensation Authority (CICA).
These exceptions show why it's important to speak to a solicitor as soon as possible, to make sure you give your claim the best chance of being successful. If you're uncertain about whether you're within the relevant time limits contact us and our expert team will help you.
Once a personal injury claim has settled you are not able to reopen it.
If you are unhappy with the outcome, you might be able to claim compensation from the solicitor who represented you previously, by making a professional negligence claim against them. If successful, you will be able to claim any compensation they should have claimed for you.
There are some important differences between professional negligence and personal injury claims, such as the time limits. You can read more about making a professional negligence claim, here.
Personal Injury Lawyers you can Trust
When choosing which personal injury lawyer you want to handle your claim, it's important that you find one you can trust.
Although many claims settle in less than a year, some can take much longer. So, it's important that you're comfortable with the firm and person helping you claim compensation.
Pryers Solicitors have years of experience helping people across England and Wales to claim compensation after accidents. We pride ourselves in having a knowledgeable, but approachable team, who have your best interests at heart.
But we would say that. If you want independent evidence of how good we are, look no further than our Lexcel quality mark.
The Lexcel quality mark is the Law Society's accreditation for client care, compliance and practice management. It shows that we have been independently assessed to have demonstrated the Law Society's required standards for excellence.
There's absolutely no obligation when calling us to have your claim assessed. That means you can speak to us first, before deciding if you want to go ahead. We will consider your claim and advise whether we can take it forward on a no win no fee basis. If you want to continue, we'll arrange for the necessary paperwork to be completed, with you.
Call us on 01904 556600 or email us to get started today.