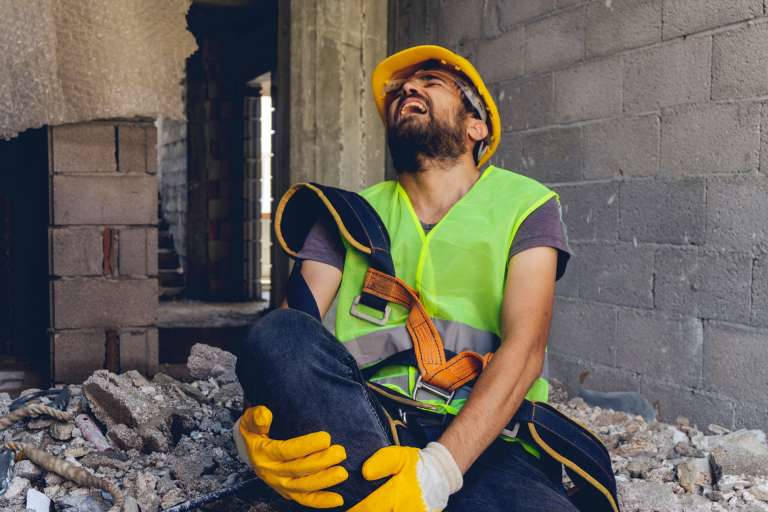 Tom came to Pryers for help to claim compensation for falling at work, after a fall had led to him sustaining physical and psychological injuries.
Tom's fall at work
Tom worked part-time for a well-known high street sports and leisure retailer, to help fund his PHD studies. As a sufferer of anxiety, he is mindful of carefully balancing the pressures of work and studying, with sports and exercise to control his mental health.
While at work one day, Tom was asked to erect some tents on a display area at the front of the store. The display area was on a raised, wooden platform, but it didn't have a protective guard around it and no one had risk assessed the task.
As Tom erected the tents, he fell from the platform. Although it wasn't a large drop (approximately 50cm), he fractured and dislocated his ankle; he also sustained some tendon damage.
Immediately after the fall Tom was frustrated, as he realised that he was now unable to carry out the physical activities of his daily life; including the exercise that he relied on to control his mental health.
Life after the fall
Following the fall, Tom went to hospital, where his foot was put in plaster. However, one week later he was still suffering immense pain, so returned to the hospital to have the plaster recast.
Unfortunately, a few weeks after the recast, his ankle still wasn't healing, so he had an operation to insert wires into his foot. But sadly this was ineffective and he needed two more operations over the following 18 months before he began to experience any reprieve from the pain.
Tom was unable to drive because of the injury, and he worried that it might lead to him having to quit his PHD, since he could not drive to university. But fortunately, his partner, Danielle, was able to drive him, however this was a big inconvenience for both of them.
Restricted by his movement in and around university, Tom no longer had the same enjoyment in his studies. Additionally, he was unable to use exercise as an outlet for the pressures he felt, and his anxiety increased.
How we helped Tom to claim compensation for falling at work
One of our Personal Injury solicitors, Charlotte Waller, represented Tom in his claim.
The retailer quickly conceded fault, meaning Charlotte could focus her attention on Tom's injuries. She obtained independent medical evidence regarding his physical and psychological injuries.
The evidence identified a 10% risk that Tom will develop arthritis in the future, due to this injury. Charlotte therefore made sure that he received compensation for this risk. Charlotte also waited until Tom had undergone his second surgery before settling his claim; she knew that it would be crucial to determining how he would recover, and therefore how much compensation he should receive.
Charlotte said; "I spent hours speaking with Tom, finding out his needs and putting them first. Personal injury claims are all about achieving a swift resolution for our clients as well as helping them get the compensation they deserve. I worked with Tom to ensure that we found the right balance with this settlement."
With our help, Tom also began to receive psychological treatment. His psychologist diagnosed him with an adjustment disorder with mixed anxiety and depressive moods.
Whilst recovering Tom had looked forward to mountain biking again. He was therefore upset when residual symptoms meant he could no longer mountain bike.
Charlotte ultimately settled Tom's claim £21,500. She worked closely with Tom, and independent experts, to make sure this included compensation for loss of income and any future expenses.
Tom said; "Charlotte's help was invaluable. She guided me to ask the right questions. Without Pryers, I would have struggled to gain compensation for falling at work. The fall brought much disruption into my life and I finally feel that I can get back on track."
How we can help you
If you have sustained a personal injury through an accident at work, Pryers can help you to claim compensation and get your life back on track.
Contact us by email or call us on 01904 556600 for a no obligation consultation. Our team will advise you for free whether we we can help you make a no win no fee claim.