£42,000 Settlement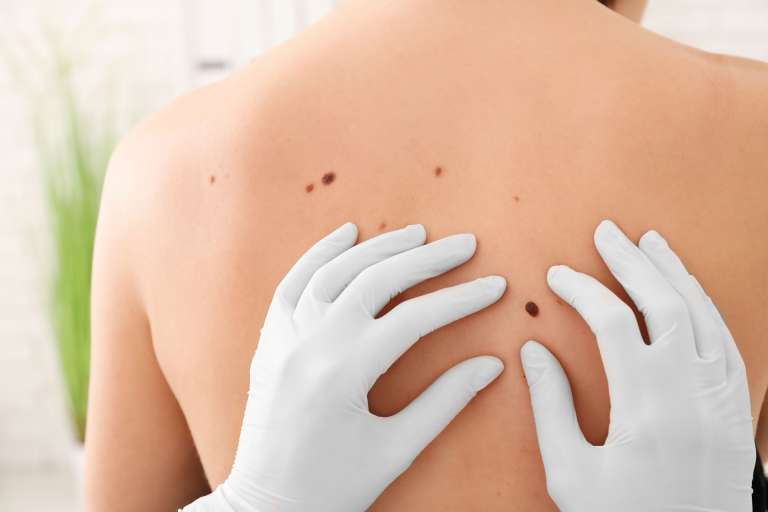 Lauren approached Pryers for help and advice after she received a melanoma misdiagnosis (a form of skin cancer).
Diagnosed with Melanoma
Lauren was only a young adult when she noticed a strange lesion on her buttock. She went to see her GP, who, after a discussion and review of the lesion, referred her to a general surgeon to get it excised.
Her surgeon did not appear concerned about the lesion, saying it was nothing to worry about as it was only a simple cyst. They removed the cyst and sent it for histology, for experts to study. Lauren felt quite reassured by this advice and no longer worried about it. Unfortunately, the surgeon's earlier assumption appeared to be wrong, as histology said it was a metastatic melanoma. Meaning it was a cancer, that had spread from an original, primary cancer, somewhere else in her body.
Consequently, Lauren had multiple full-body CT Scans and blood tests for the surgeons to identify the primary cancer. They also excised a larger area around the cyst. But despite, their efforts, the doctors were unable to find any other cancers. This search and ongoing worry continued over six years, under dermatology and oncology care to no avail.
Preparing for the worst
The diagnosis hit Lauren hard, as it would to anyone who receives a cancer diagnosis and she began to suffer from depression. She felt as though she had reached the end of the line, so, although she was only in her mid-twenties, she began to make plans for the future care of her child if she were to suddenly die. Understandably it is difficult for those who have not gone through anything similar, to comprehend what Lauren must have been going through at this time in her life. She knew that at some point her life would come to an end, but hated that it would happen sooner than she would have liked.
As a mother to her young daughter, she often got emotional and felt guilty about leaving her daughter behind. She often worried about what would happen to her daughter once she was gone. She decided to take charge and arranged for her parents to look after her if she died. However, this did not help her overcome the diagnosis and the prospect of dying.
Melanoma Misdiagnosis
In 2018, Lauren and her family moved house, so her care transitioned to a new hospital Trust. She met with her new Consultant Dermatologist. He was surprised to hear about her 2012 diagnosis along with the lack of findings over the last six years. So, he requested for the histology report slides. These slides took a while for the Consultant to receive, so Lauren had to wait longer to find out the truth. Thankfully and to her relief, the wait seemed worth it. The new Trust reported that they could not see any features of melanoma, but just a typical benign lesion. The cyst surgeon's told her about over six years ago, she no longer needed to worry about.
Both shocked and relieved, Lauren felt as though she had the weight of the world taken off her shoulders. Though at the same time, she was angry at what her previous trust had put her through. Six years of feeling like her life was almost coming to an end. All of the thoughts and feelings that she went through were all for nothing. She had gone through the absolute worst, to hear that her old trust misdiagnosed her.
Claiming Compensation After A Melanoma Misdiagnosis
Still angry and confused about what she had gone through, Lauren approached Pryers to help her make a claim. Our expert medical negligence solicitors worked with independent doctors to assist with Lauren's case. The histologist we instructed retested Lauren's original histology sample and also confirmed it was completely benign. We were pleased to be able to clarify this for Lauren after she had received two conflicting diagnoses. Furthermore, we helped prove that the melanoma misdiagnosis also had a detrimental effect on Lauren's mental health. It had affected her everyday life and caused her to suffer from depression.
Lauren had lost six years of happiness in her life, these were six years of her young daughter's life. She was angry about the time she wasted worrying about something that wasn't even true.
Faced with our evidence, the trust had little option but to admit liability, our team were able to negotiate £42,000 in compensation for Lauren.
Claiming for Cancer Misdiagnosis
A misdiagnosis can be more common than you might think. Most cancer misdiagnosis claims are for a missed cancer diagnosis resulting in delays to treatment, but as Lauren's story reminds us the wrong diagnosis can be just as traumatic. If you have suffered from a cancer misdiagnosis, call us on 0330 433 1197 or get in touch with our expert solicitors to see how you can claim compensation on a no win no fee basis.