£700,000 Settlement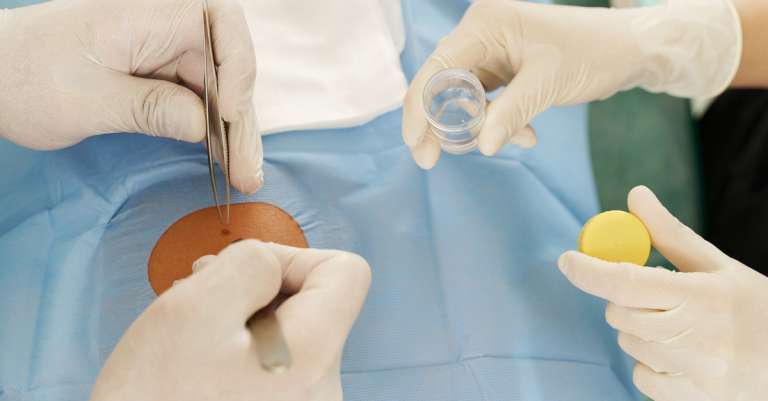 Daniel approached Pryers for help claiming compensation for himself, his partner and his young son after a failure to diagnose melanoma left him suffering with symptoms that will never subside.
The failure to diagnose melanoma
Over twenty years ago, Daniel became concerned after discovering a mole with jagged edges that persistently bled on his upper thigh. The mole continued to itch and increase in size and began catching on his clothing. With growing concerns, Daniel arranged an appointment with his GP, as he hoped to have the mole removed.
After the examination, his GP asked him to return later that day to have the mole removed. The procedure was painless and the mole was removed. However, Daniel's GP didn't provide any advice on what to do if other irregularities developed, or if the mole returned. Most importantly, the GP failed to send the mole for any analysis despite some key features that should have raised a suspicion of this not being a regular benign problem. Had the GP done so, it would have revealed that the mole was cancerous.
Concern over further swellings
In 2013, a small, hard, painful lump appeared on Daniel'sleg. He started to grow concerned about a connection between this lump and the mole he had removed years ago. Knowing it's better to act sooner rather than later, he decided to book an appointment with his GP, and they scheduled another removal. But before the growth could be removed, it had disappeared, and Daniel was not required to attend any further appointments.
Two years later, a third growth appeared close to the site of Daniel's first mole removal. The growth appeared skin-coloured and was sore and tender when touched.
Daniel started to feel overwhelmingly fatigued and grew concerned about the lump which had now increased in size. He booked another appointment with his GP. However, his GP told him to return after four weeks if the pain persisted.
Frustratingly, his pain continued and he returned to his GP. Daniel's GP could not identify why the lump was causing him to suffer so much pain. The GP referred him to a specialist, who then booked him into the hospital for further tests.
The pain worsened and Daniel felt increasingly run down. Daniel and his partner Holly became increasingly worried and stressed. After several ultrasounds, biopsies and tests, Daniel and Holly received the news they had feared: the lump was cancerous.
He said: "I felt so scared and anxious about what would happen to me and my family. We didn't tell our son Max at first because we knew he'd struggle to accept such upsetting news. I just had to wait and find out what my upcoming surgery would reveal. They had to remove the lump and excise some lymph nodes so that they could diagnose and stage my cancer."
Lymph node surgery
Daniel attended his hospital appointment and underwent surgery to have his lymph nodes removed. He felt very nervous about his stay in hospital but would do anything to get rid of the cancer and his pain.
Sadly, after returning from hospital, his pain worsened: he developed an abscess where the operation on his leg had taken place. Due to the stiffness in his leg and increased pain, Daniel had no option but to rely heavily on Holly. She helped him to the bathroom, to cook, clean and to bathe.
Although Holly was happy to help, this added a lot of additional pressure. Daniel grew increasingly embarrassed and frustrated; the tasks he once performed with ease, such as taking his son Max to school, had now become impossible. He became very irritable and aware that he was taking his frustrations out on Holly, adding to his upset.
Holly was growing increasingly concerned. She could see that Daniel was trying to put on a brave face by keeping his emotions to himself. Holly's father had died of cancer four years earlier which had devastated her. She did her best to remain optimistic but became more and more anxious about the fate of her family.
Following the lymph node surgery, Daniel found that even a blanket touching his thigh would cause him extreme pain. Sleeping next to Holly became impossible, forcing him to eventually sleep on the sofa which he continued to do for the next six years. This put a huge strain on the couple's relationship and was extremely distressing for Holly, especially when she could hear Daniel crying out in pain every night.
Malignant melanoma finally diagnosed
After having some of his lymph nodes removed, Daniel received the devastating news that the cancer had been identified as malignant melanoma. He underwent further surgery to have the rest of his lymph nodes removed, to trace the cancer's spread. Holly was distraught; she hadn't coped well after losing her dad and felt scared that she would lose Daniel too.
Following a referral, Daniel went to see a dermatologist who told him that the mole he had removed in many years ago was most likely malignant melanoma. The dermatologist searched for records detailing Daniel's first mole removal but could not find anything in the GP records.
Complications following lymph node surgery
Following the lymph node removal, Daniel suffered a large seroma (a collection of fluid under the skin) in his left groin. For the next eight weeks, he had to make daily visits to hospital to have the seroma drained. Eventually he had a drain fitted to prevent him from the daily hospital visits.
With the wound from the seroma only healing slowly, Daniel was unable to undergo chemo or radiotherapy.
Daniel's surgery had also caused nerve damage, causing him to experience stabbing, burning, and shooting pains down his leg. In addition, he also suffered from cellulitis which made him feel extremely unwell and caused his leg to further swell and discolour.
Once again, Daniel was hospitalised and whilst there, suffered an adverse reaction to the medication. This resulted in him having to inject himself with blood thinning medication for the next six months, which was distressing and uncomfortable.
The whole family felt the impact
With limited signs of improvement, Holly and Max became increasingly upset at seeing him suffering so severely and frequently.
After undergoing various surgeries, Daniel said "I felt constantly uncomfortable; I struggled to move but felt so restless. In the mornings I couldn't get out of bed because of the stiffness in my legs. I relied on Holly for everything."
Due to his lack of mobility, Daniel's lifestyle changed drastically. He had previously enjoyed fishing and golfing regularly; often taking Max with him. Sadly, the struggle to stand for long periods of time meant he could no longer do either.
Max missed spending time with his dad. Holly became concerned that he wasn't able to communicate how he was feeling. One day, he revealed to his mum that he felt scared about losing his dad and hated seeing him in pain. It was clear that Daniel's condition had massively impacted Max's mental health too.
Prior to his diagnosis, Daniel worked as a labourer; spending long days on his feet and carrying out physically demanding tasks. With work no longer an option and Daniel confined to his house, he started to feel depressed. The family's income severely decreased and meant they were unable to afford help from a carer or cleaner.
Daniel and his family are all animal lovers and care for a number of different pets. Daniel said: "It depresses me that I cannot care for the animals in the way I used to; they are part of the family. What's worse, my social life is now non-existent and everything I once loved doing is no longer doable."
To help him move around the house, a stair lift was installed. Unfortunately, this didn't work well for the small house they lived in. Soon, Daniel was unable to access any of the upstairs areas and this left him feeling even more isolated and trapped.
Spinal cord stimulation to ease nerve pain
After an appointment with his pain consultant, and desperate to regain some normality in his life, Daniel decided to have a spinal cord stimulator implant to help reduce his chronic pain.
Daniel felt disheartened by his place at the bottom of an 18 month waiting list for the spinal cord stimulator and felt as though the pain would never end. After numerous tests and trials to ensure his physical and psychological compatibility with the machine, he underwent the painful device implantation procedure.
It devastated him that, despite his positive test results, the machine failed to deliver the expected improvements.
Although the implant helped to improve his ability to sleep, his movement hadn't improved. He started to fear that the electrodes would dislodge over even the slightest of movements. Daniel still suffers a lot of pain and continues to take high doses of pain medication daily.
How we helped following the failure to diagnose melanoma
One of our senior medical negligence solicitors, Tamlin Bolton, handled Daniel's case. Having worked on a number of similar cases, Tamlin understood the challenges Daniel and his family had been through and used her expertise to guide them.
After gathering the necessary evidence, Tamlin instructed an independent medical expert. This expert confirmed that the melanoma should have been diagnosed at the time of Daniel's suspicious mole removal. After removal, the mole should have been sent away for histology and examined, at which point the appropriate diagnosis could have been made. There was no evidence that any GP or surgeon had carried out tests or investigations.
The defendant admitted that they should have diagnosed the cancer earlier, but denied any fault connected to the nerve damage that Daniel suffered.
Tamlin persevered and argued that if there had been no failure to diagnose melanoma, surgery and further complications could have been avoided.
A successful settlement
Tamlin's perseverance paid off as she achieved a settlement of £700,000 for Daniel and his family. This has helped Daniel to move to a larger property that can facilitate his needs and allow him to live more comfortably.
Tamlin said: "I'm really pleased that this family finally has some good news. When a defendant denies arbitrary aspect of a claim it can complicate settlements. It causes distress for the Claimant, prolongs legal actions and leads to completely avoidable, unnecessary delays in Claimant's access the life changing compensation they rightly deserve. Sadly, this is not uncommon and emphasises the importance of instructing a solicitor who is familiar with facing such challenges, understands how vitally important the issues are and can robustly plead the case. I feel delighted that in this case I could achieve a settlement that will now help Daniel to live a more comfortable life. Sadly, financial compensation is the only comfort the law can offer."
Daniel has expressed his gratitude for our support and guidance throughout his claim. He told us: "Tamlin was so supportive and sensitive. The repeated failure to diagnose melanoma left me struggling to trust medical advice. However, Tamlin really helped me to better understand my condition and the legal process. We can now afford to buy a new house where I'll have plenty of space and we no longer have to worry about having enough money for the month ahead."
The family now live in a larger house with plenty of space. Their previous home did not have the facilities Daniel required to live comfortably. The family now have a fresh start in a house that suits all their needs.
How we can help you
If you have suffered because of a failure to diagnose melanoma or other forms of cancer, our team could help you claim compensation to help you get back to living a more normal life.
Contact us to find out if we can help you on a no win, no fee basis.