£30,000 Settlement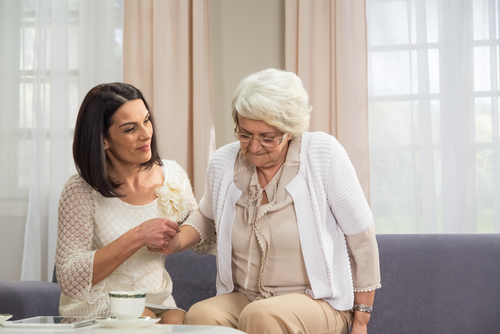 Carole West came to us to claim compensation for the pain she suffered following the delayed diagnosis of an undisplaced fracture of her right greater trochanter, sustained after a defective hip replacement.
Delayed diagnosis
At 79 years old, Carole West needed a full hip replacement as the right side of her hip was arthritic. Before the hip replacement, she functioned independently and walked 3-5km per day to keep fit. She also enjoyed going swimming every week.
Following the operation, she began experiencing immense pain and started to attend physiotherapy. Carole had to use crutches to support her, as she could no longer walk with ease and couldn't manage stairs.
Unfortunately, she had a few falls while using them due to her loss of balance. Luckily, she fell on her left side.
When she returned to the hospital for a review, they noted her heavy bruising and that she was still in extreme pain. They said that she hadn't had enough physiotherapy before leaving hospital, and should have tried climbing stairs before being discharged.
Three months later, Carole remained in pain with her hip and felt as though it had moved position. This was really upsetting for Carole, as her movement was now very limited, which changed the structure of her daily life. She had to rely on the help of her sons and granddaughter to complete everyday tasks.
Carole grew alarmed to see that her left foot had started to turn outwards. A doctor saw her and reviewed that she had a limp and external rotation alignment of her foot when not using her crutches. This caused Carole more pain and further affected her range of movement.
Carole eventually received a diagnosis that explained the pain she was suffering. She'd sustained an undisplaced fracture of the right greater trochanter (the point where the hip and thigh muscles are fixed).
Consequently, Carole required revision surgery. This took place 19 months after her original hip replacement surgery due to the delay in diagnosis.
Life after revision surgery for the undisplaced fracture
Going back into hospital distressed Carole. However, she was willing to go through with the revision surgery because she hoped that it would help her get her life back on track and ease the pain she felt daily.
Unfortunately, the revision surgery barely improved her condition. Carole had lost even more confidence, which further reduced her ability to move. The right side of her hip still caused her pain and interrupted her sleep at night. Three months after the revision surgery, Carole fell while in the bath and had to go to A&E. The pain and frustration she felt seemed never-ending.
Carole now suffers from anxiety due to the changes in her lifestyle. Her husband had supported her and would drive her wherever she needed to go. Sadly, her husband suffered a fall some months after her revision surgery. He now resides in a care home and suffers from dementia. Carole now lives alone and feels isolated, as she cannot get out like she used to.
She said: "I have to rely on taxis and lifts from my family to get anywhere. I've lost all the independence that I had before my surgeries. My sons and my granddaughter have all supported me, but they shouldn't have needed to."
How we helped claim compensation for an undisplaced fracture of the greater trochanter
Carole sought Pryers' help to claim compensation for the treatment she received. Seeing how drastically her life had been impacted, we were pleased to be able to help.
We instructed orthopaedic medico-legal experts to investigate and report on the breaches of duty and the treatment Carole received. The experts identified a number of issues with the care Carole received:
Her undisplaced fracture should have been identified in the days following her initial surgery.
Her rehabilitation regime was insufficient.
She should have been offered revision surgery at an earlier date – 16 months earlier than it actually occurred.
It was believed that Carole's condition was unlikely to improve and she would probably never be pain-free again. She felt extremely disheartened by this, as throughout her recovery she had longed to regain her previous independence.
Based on the evidence we had obtained, we sent letters to the surgeon and radiologist who treated Carole, setting out their respective failures to recognise Carole's symptoms and care for her while in hospital.
Both parties denied fault. The case was further complicated by the fact that the surgeon didn't have valid insurance. Consequently, he responded so say that he did not have sufficient funds to settle Carole's claim.
This was distressing for Carole, especially because the case against the surgeon was stronger than that against the radiologist.
Nevertheless, we ensured that Carole felt supported and informed throughout, and worked to make an offer to settle the claim.
After negotiations, the surgeon and the Medical Defence Union, on behalf of the radiologist, made an offer to settle the claim for £30,000.
Carole was happy to accept the offer, in light of all the risks. She said; "Pryers made this situation a lot easier for me. They were very helpful and knowledgeable, I am so grateful for their guidance".
How we can help you
If you've received a delayed diagnosis following a hip replacement and consequently suffered pain or further injury, Pryers could help you to claim compensation.
Contact us to make an enquiry, and our team will do what they can to help you gain compensation on a no win, no fee basis.