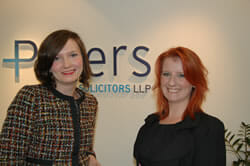 Pryers Solicitors of York now act for over 200 patients who have suffered the premature failure of their metal-on-metal hip replacements and resurfacings. Claims for compensation are being brought against DePuy International Ltd, the UK distributor of the ASR and ASR XL hip products.
The team, headed by Richard Starkie, has been strengthened by the recruitment of two more solicitors, Lucy Macklin-Smith and Lindsay Perryman.
The ASR hip was introduced in July 2003 and used extensively in a few areas of the UK, particularly York, North Tees, Surrey, Rotherham, Merseyside and Cardiff. By 2007, a number of surgeons raised concerns that they were experiencing a higher than expected failure rate with the ASR. DePuy's response was that this was a problem with surgical technique, rather than a problem with the product. However, as concerns grew, DePuy withdrew the product form the Australian market in December 2009 and from the rest of the world in August 2010.
Since then, hospitals have been recalling patients for tests, including blood tests; ultrasound and MRI scans; and aspirations of fluid from the hip. Hundreds of people have been found to be suffering from excessive wear of the components, which can lead to damage to the soft tissues around the joint and even to the bone. Revision surgery is then required, with a lengthy recovery period. Patients frequently fail to make a full recovery and many require further surgery after revision.
Although, at the time of the product recall in August 2010, DePuy put the 5 year failure rate at 12-13%, some surgeons now estimate the 6 year failure rate as being as high as 49%. If that is correct, it is likely that several thousand people in the UK alone will require further surgery.
If you or a relative has suffered the premature failure of a metal-on-metal hip replacement or resurfacing, particularly the DePuy ASR, please contact Pryers Solicitors on 0800 316 0166 or by email at hips@pryers.co.uk.