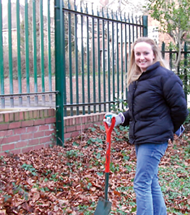 Whilst most of us have been staying in with the doors firmly closed the team at Pryers Solicitors LLP have been out and about giving up precious time for voluntary work for local charity, York Cares.
Marie Brasnett, Sally Roberts, Alex McKnight and Julia Willoughby-Smith left work a few hours early last week and braved the weather to spend the early evening planting trees and laying wood chip paths at West Bank Park in Acomb, York.
Principal, Ian Pryer said, "I've always been a huge supporter of giving something back to the community and York Cares offers the ideal opportunity for Pryers to make a real difference to the people of York. It has proved a great success in terms of team building and I have a long list of volunteers for next time".
For solicitor Alex McKnight this was a first in terms of out of office voluntary work and it has certainly made the right impact. As he said, "This is the most selfless act I've done in the last 35 years!."
York-based Pryers Solicitors LLP are specialist in Clinical Negligence and Personal Injury, with a reputation for excellence in these specialist fields. Contact us for a free consultation, if you would like to see if we can help.