A team of 22 Pryers staff, family and friends are setting off on the Yorkshire 3 Peaks Challenge on Saturday 16th August  to raise funds to buy urgently needed equipment for Lucy who is known to one of our Partners. Here is a little background info for you:
Lucy's Story
Lucy suffered a severe stroke when she was only 20 years old. She was left with hemiplegia and brain damage. She is severely restricted by her disability and lack of mobility, which has had a huge impact on her family, not least her 7 year old daughter.
Lucy is no longer able to work as a beauty therapist as planned. She is trapped in her unsuitable home with stairs that are unsafe for her to use. She is supported by her family and friends, but cannot afford to purchase equipment, mobility aids, or additional therapies or support to improve her level of function or quality of life.
Pryers Solicitors wish to fundraise for Lucy, to buy for her much needed equipment. We would like to raise money to purchase a bespoke stairlift and/or a mobility scooter, both of which would directly improve her safety in her home and her ability to mobilise.
In order to do so, a team at Pryers are taking on the Yorkshire 3 Peaks Challenge to  raise money for this purpose. The challenge is no mean feat, and the team have been in training in order to complete it!
Pryers have acted for many victims of strokes, and are sympathetic to the debilitating effect this can have on the individuals and their family. Having worked closely with stroke sufferers, we are acutely aware of the benefit
of specific aids or equipment, such as we are
hoping to buy for Lucy.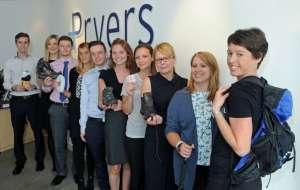 Please see our facebook page Pryers Solicitors LLP or our twitter feed for updates on the team's progress and training.
Any generous sponsorship and support for this worthy cause is very much appreciated!
You can donate quickly and easily using our fundraising page here: