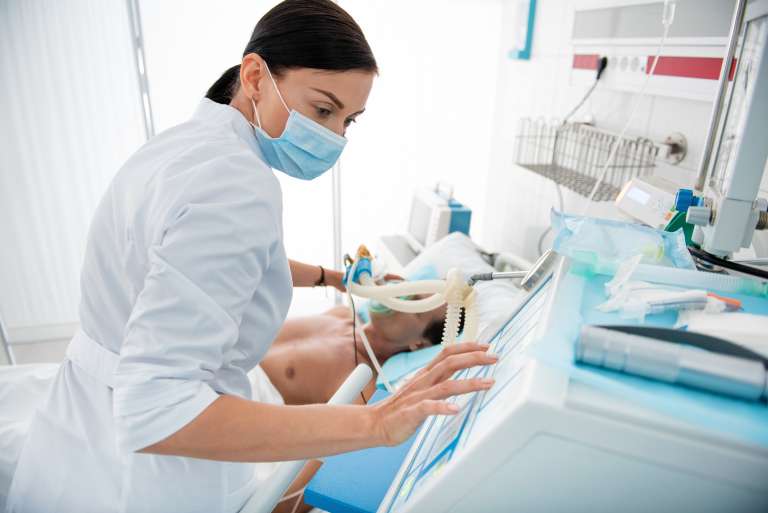 On 14 October, Her Majesty's Coroner of West London handed down a damning verdict for care provided to Miss NR at Charing Cross Hospital, part of the Imperial College Healthcare NHS Trust. In her ruling, the Coroner described how the misplacement of a breathing tube, contributed to the death of Miss Ryan.
NR was 46 years old at the time of her death leaving behind a large family and loving partner. Senior Solicitor, Tamlin Bolton at Pryers was instructed to represent the family.
In October 2019, NR was admitted to Charing Cross hospital with a three day history of pneumonia. She had a high heart rate and was struggling to keep her breathing controlled. Once she reached the Emergency Department, it was agreed that given how unwell she was, NR should be transferred to the ICU (Intensive Care Unit).
NR arrived on ICU in the early hours of the morning. Her oxygen saturations were low and she had started to hyperventilate in an effort to deal with her racing pulse and an underlying diabetic condition, that she was not aware she had.
As soon as she arrived on ICU, NR suffered a cardiac arrest and after being revived, the ICU doctors agreed that it would be best to put her on a ventilator machine, to relieve some of the stress on her heart.
Incorrect Intubation
In order for a ventilator to take over the breathing for a patient, a breathing tube has to be placed in the throat to provide oxygen to the lungs. This is a process called "intubation". Two specialist training doctors were on duty in ICU that night. The less experienced doctor made an attempt to place the breathing tube into NR's throat but was unable to do so. Staff decided to move NR to get her into a better position and the same doctor made another attempt.  
He confirmed to everyone that NR had been successfully intubated and they began to monitor her vital signs. One key piece of equipment for checking on ventilated patients is a Carbon Dioxide monitor. The device ensures that the lungs are taking in oxygen and passing out carbon dioxide, as a person would normally do when breathing.
NR's monitor was showing that no carbon dioxide was leaving her lungs. The doctors in charge of her care assumed that the device was simply broken. They replaced the device approximately three times; each one showing no trace of carbon dioxide being emitted.
There was no evidence to suggest that the devices had malfunctioned, the doctor who intubated NR had simply placed the tube into her stomach rather than into her lungs.
For 1 hour and 17 minutes NR was without oxygen.
When the doctors could not figure out why she was not getting any better, they called the Consultant at home and she said she would come to the hospital. When the Consultant arrived on ICU, she noticed the lack of carbon dioxide being expelled and checked the breathing tube. She immediately recognised it was not in the right place and repositioned it.
NR then began to breathe properly on the ventilator. Sadly however, she never regained consciousness and due to how long she had been without oxygen, recovery of any brain function was unlikely.
How did this happen?
During its own internal investigation, Imperial College Healthcare NHS Trust determined that the clinicians had a bias towards equipment failure, rather than checking they had ventilated NR correctly.
It further became clear that a key instructional video and guidance from the Royal College of Anaesthetists entitled "No Trace = Wrong Place" had not been disseminated to any of the relevant staff across all Imperial College NHS Trust hospitals, despite the Royal College recommending this be done as a matter of significant importance.
The Royal College guidance was a reminder to all clinicians who ventilate patients, that if there is no carbon dioxide being recorded on the monitoring devices, the first and only assumption needs to be that the breathing tube has been misplaced.
Understanding what went wrong
At the Inquest into NR's death, the treating doctors expressed their deep regret at the assumptions the equipment had failed. They admitted this was a departure from all of their training and that the basic rule is,  that if there is no trace of carbon dioxide, then the breathing tube is in the wrong place.
Imperial College Healthcare NHS Trust have implemented some changes since NR's death. They now have a "crash call team" that act as fresh pair of eyes across all their hospital sites when a patient has an unexpected cardiac arrest on a ward. They have also ensured that every staff member who has a hand in intubating patients, has seen the "No Trace = Wrong Place" video.
Tamlin Bolton, Senior Solicitor specialising in medical negligence at Pryers said "The loss of NR was a wholly avoidable tragedy. This was a basic error and fundamental failure in the most elementary part of ICU care. Cognitive bias in medicine must be considered as a serious concern in the training and discipline of all junior doctors. In stressful emergency situations, communication and the ability to openly question your peers is vital. The doctors admitted to the Coroner, that if they had worked through their training, they would have recognised that the most obvious implication was that the breathing tube was not in the right place. I am devastated for NR's family and we will do all we can now to bring this case to a swift conclusion for them".
The Trust have admitted responsibility for NR's tragic death and Pryers will now work with the family to obtain financial compensation to reflect their loss.