Pryers Solicitors currently act for a large group of Cheltenham hip patients who have suffered the early failure of metal-on-metal total hip replacement devices.
Metal-on-metal hip replacements have all performed quite poorly, certainly worse than expected and worse than the older products they were intended to outlast.  Not only have they failed earlier, but the way in which they have failed has been particularly damaging.
In many cases, the junction between the metal head and the stem suffers from excessive wear.  In other cases, the metal stem corrodes.  Both processes lead to the release of metal debris into the surrounding muscle and bone causing damage and death of those tissues.  Metal debris is also released into the patient's blood.  As a result, many patients have had to undergo surgery for the removal of the hip device, which often results in permanent disability and the need for yet more surgery.
The Cheltenham hip
A particular hip replacement device used in Cheltenham has a failure rate many times higher than the national average.  This is because it consists of components from different companies, used together, known as a "mismatched hip".  This combination was never tested or approved by the manufacturers.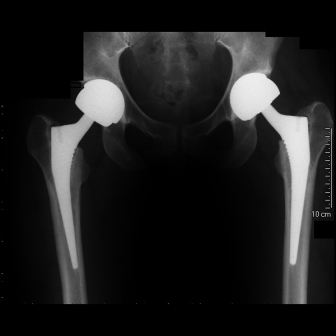 Time limits
Claims are being brought against the producer under the Consumer Protection Act 1987.  Under this law, there are two separate time limits.  Firstly, cases must be started within three years of the date on which the patient first suspected that they had suffered injury due to a defective medical product.  However, the case must also be started within 10 years of the supply of the product, regardless of when the patient received it or when it failed.
If the claim is not started within this time limit, then the case will be out of time.
The Cheltenham hips were first used in 2004 and so a few will be already out of time.
Therefore, if you have been fitted with a metal-on-metal hip replacement in Cheltenham and it has failed or is failing, we urge you to contact Pryers solicitors as soon as possible.  By taking some simple steps, we can ensure that your case is protected from the expiry of this time limit.
Please call whether you know you have received a mismatched hip or not.  We can easily find out for you.