The DePuy ASR hip replacement components were taken off the market in August 2010 due to an unacceptably high failure rate.  Since then compensation claims have been brought all over the world, alleging that DePuy's device is defective and unsafe.  Pryers Solicitors of York now act for almost 300 patients who have suffered due the failure of this product.
Recently, yet another hip product has been the subject of a worldwide recall.
The Smith & Nephew R3 is a metal hip socket that can be used with bearings, or liners, of different materials.  The metal liner has been recalled by the manufacturer.  This is made of a cobalt-chromium alloy, similar to that used in the DePuy ASR.  The socket was used in total hip replacements and as part of the Birmingham hip resurfacing.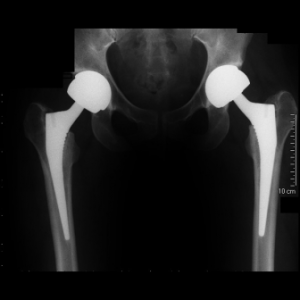 A pair of typical metal-on-metal hip replacements
The manufacturer has stated that the product is "not performing as well as we would like" but they say the situation is different from that of the ASR because there is no "single, dominant reason why this liner isn't performing to our standard".  This would be different from the ASR which failed due to excessive metal wear and a condition known as ALVAL, which is an inflammatory reaction to metal particles.
Smith & Nephew goes on to say that the evidence suggests that the liner is failing due to infection, dislocation, metal sensitivity, loosening/lysis and fracture.
However, ALVAL can often be mistaken for infection; many of the symptoms and signs are similar.  The other causes of failure cited by Smith & Nephew can all be the result of excessive metal wear.  Pryers have recently learnt that, as with the DePuy ASR, the main reason for the failure of the metal R3 liner is ALVAL, caused by excessive and premature metal wear.
Pryers are currently investigating why this particular system has failed in such numbers and whether this problem could have been foreseen and prevented.
If you have suffered the premature failure of a Smith & Nephew R3 metal hip socket and would like to discuss your legal options, please contact Pryers.