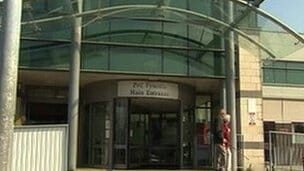 The health service in north Wales has seen a big rise in complaints and faces a possible £58m in legal claims.
There are 682 active claims and complaints rose 32% on the year, according to a report to Betsi Cadwaladr health board.
A total of 454 claims relate to alleged clinical negligence of adult patients, with 58 involving children. There are 135 personal injury claims by staff.
The health board said the rise was in line with national trends.
"We are working very hard to reduce such rises in expenditure by ensuring that lessons are learnt from civil claims and clinical practices are changed and improved as a result," said a spokesman.
"The estimated figure is based on the projected current activity although the final sum will of course be dependent on each individual case."
Although the report does not give any actual figures paid out, it said 133 claims were concluded within the 2012-13 financial year:
44 were settled out of court
12 received an ex-gratia settlement
Two were settled with damages being paid.
28 were withdrawn.
However, Thursday's board meeting agenda report says 682 active ongoing claims have an estimated value in excess of £58m.
Failure to diagnose
The money is paid out of a Welsh central fund but each health board has to pay a £25,000 excess for reimbursement.
The report goes on to say a total of 1,597 formal complaints were received – a rise of 258 or 19% – with nearly half relating to clinical treatment such as a failure to diagnose or lack of nursing care.
Five complaints were concluded with settlements totalling £35,000. In the same period 10,310 compliments were received.
Also in 2012-2013 a total of 86 complaints were accepted by the ombudsman, an increase of 12%, and 35 of them were formally investigated.
The recurring themes included issues involving documentation, the procedures for sharing information with other relevant parties on a patient's discharge, the level of family involvement in care planning for mental patients and a lack of information for parents and carers on discharge after major abdominal surgery.
The report Putting Things Right says that in 2011 the Welsh government introduced new regulations for the handling of all complaints by NHS bodies with the aim of streamlining the system and methods of providing redress.
Patient watchdog Betsi Cadwaladr Community Health Council (BCCHC) has been asked to comment.
(http://www.bbc.co.uk/news/uk-wales-24271571)